Immigration Law Software
As an immigration attorney, you might be busy providing strategic legal advice to your clients. Let CaseFox ease the complexity of cases by allowing more than half of the administrative work to be performed automatically without any extra human effort.
No credit card required! Our free plan is free forever.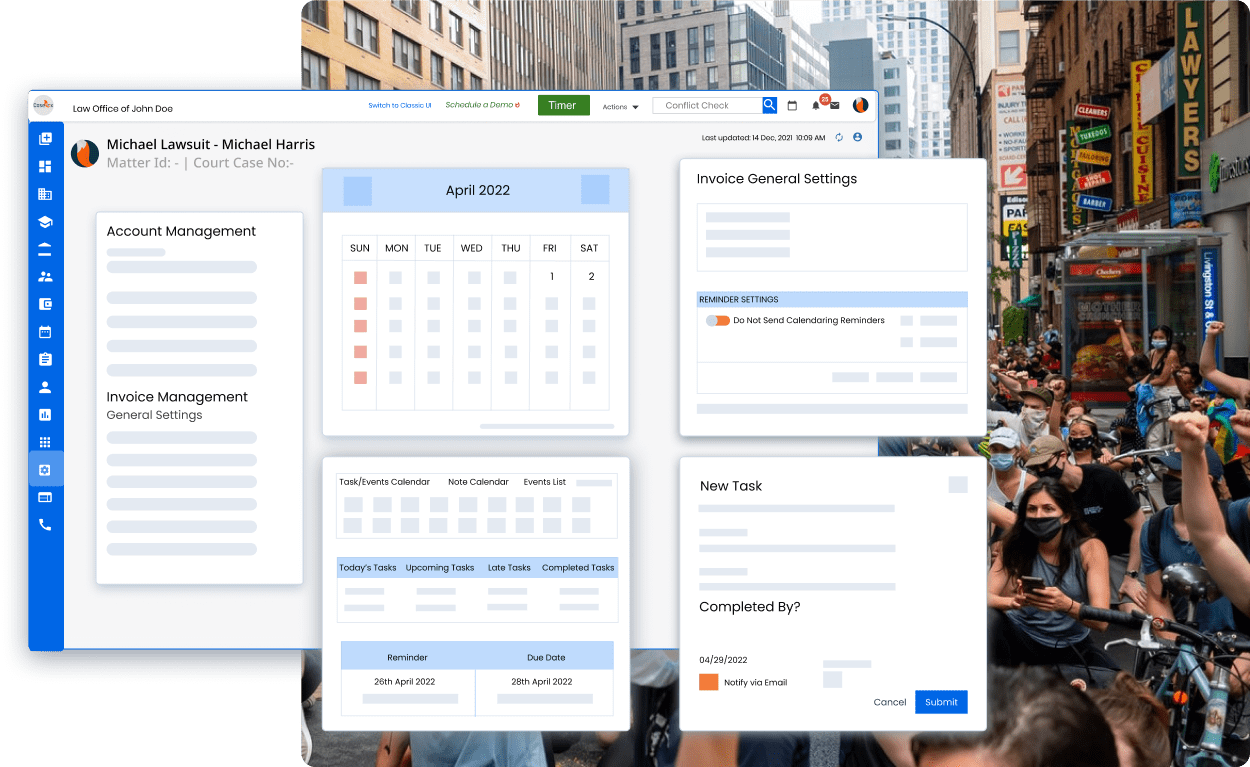 Monitor immigration deadlines and manage immigration cases seamlessly
Whether it be family-based immigration or employment-based immigration, manage every case effectively with proper scheduling of tasks.
Set Personalised Reminders
Automatically set custom reminders for each task painlessly. Get notified before the event so that nothing gets slipped out of the hand.
Create Systematic Schedule
Collecting immigration case information, conducting client meetings, case execution, etc are so many tasks that need to get executed timely. Set proper timelines and schedule each task effortlessly.
Onboard new immigration clients hassle-free
Boosts immigration intake painlessly and creates custom intake forms flexibly. Seamlessly let clients access intake forms.
Onboard Feasibly From Anywhere
Onboard new immigration intake from anywhere whether it be the U.S or any other location. Access all information online through intake forms.
Create Professional Intake Forms
Seamlessly manage different kinds of intake forms like undergoing petition, green card process, employment-based visa, etc by allowing clients to fill customized intake forms for different purposes. 
Organize and assemble all immigration law cases information at a centralized place.
Collect all data whether it be a visa detail or a refuge status, manage all the information in a single place.
Keep Cases Organized
From what the client is providing to what you are searching, store every single immigration case detail securely without any duplication for the same.
Be Updated With All Information
Keep proper track of minute information like marital status, client background, conflict check, and many more. Create different custom fields categories for different cases.
Seamlessly Monitor Data
Track what's pending and what is already completed. Keep a list of tasks and track what all is completed and by how much time.
Store Information Securely
Store unlimited data securely and access them anywhere anytime. Create separate personal notes for the important points you need to remember while executing the case. 
Frequently Asked Questions
Q1. What is immigration law software?
Immigration law software is a centralized place to execute and store all immigration case-related information and manage everything seamlessly. It helps immigration lawyers in managing all their immigration cases hassle-free. 
Q2. Does CaseFox support flat-fee billing for immigration cases?
Yes, CaseFox fully supports flat fee billing. It offers different rates for different services it offers. 
Q3. Is CaseFox law software built specifically for my practice area?
Precisely, if you are an immigration lawyer searching for a one-in-hand solution to manage everything related to immigration cases, then yes CaseFox is the right choice for you. It helps you in managing cases, documents, payment methods, calendaring, etc all in a single software.
Sign up for a free account today!
You'll love the CaseFox experience.
No credit card required! Our free plan is free forever.