Stay organized on-the-go, manage your calendar easily
Eliminate the chances of missing an important meeting again, stay updated with our legal task management software, manage your events and tasks effortlessly.
Keep track of your firm's schedule
Choosing the best task management software which easily adapts your team's workflow is not easy,that is where casefox's task management tools come to your rescue.Get an overview of your legal firm's schedule in a single calendar memo. Add events for your coworkers and also keep a tab on their events and tasks using our free legal calendaring software.
Link events to cases and users
Update your daily tasks and events and assign them to cases and particular clients. CaseFox's legal calendaring makes event and task management easier for your law firm.
Keep your clients updated
Online task management software helps you in inviting clients to the tasks and events which makes your clients feel connected. By sending invites to the clients for tasks and events, you can remind them to attend meetings.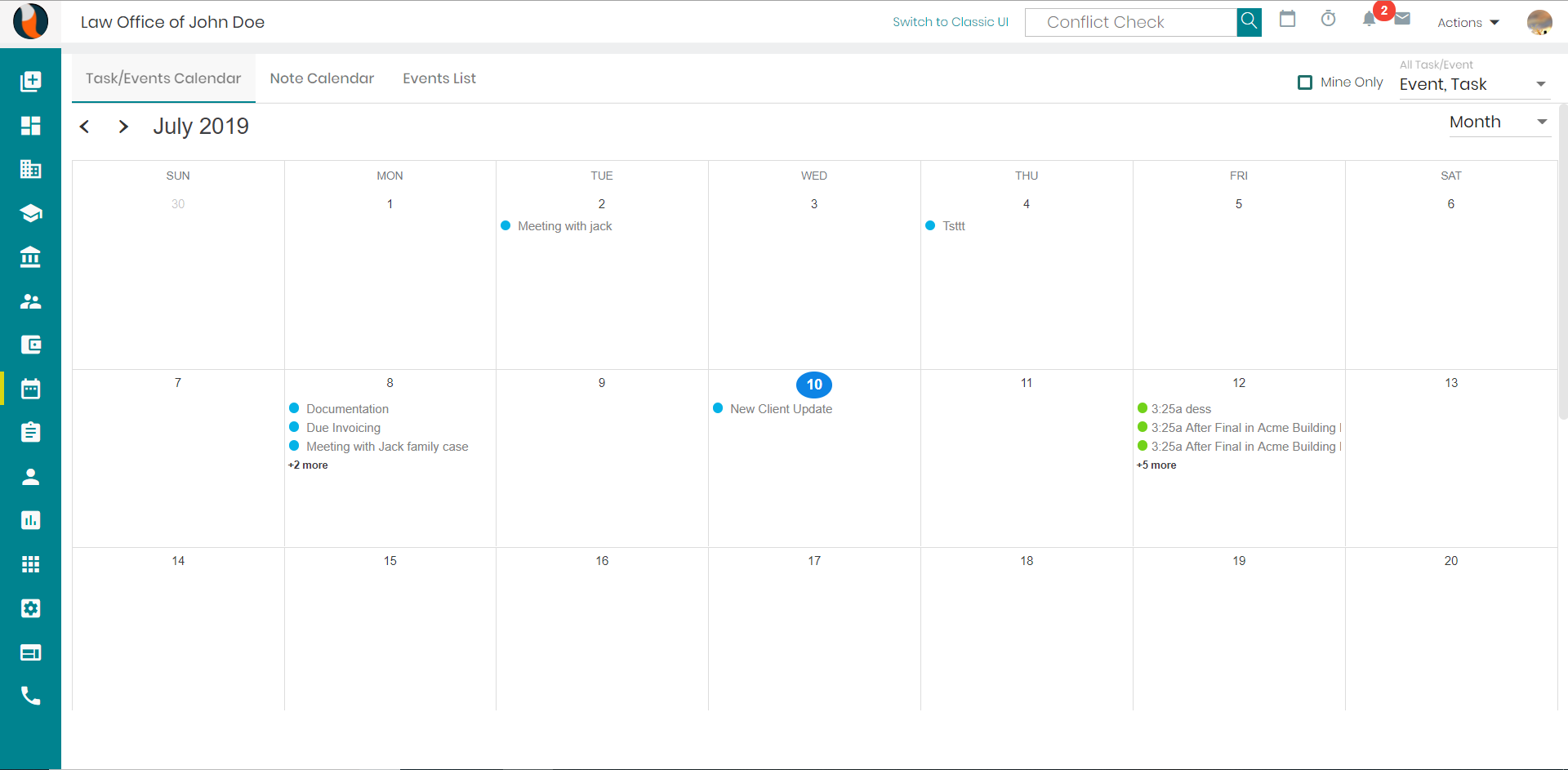 Top client services for the best client experience
With the premium features in all the plans offering top-notch client services when it comes to data migration and security, CaseFox makes your everyday practice easy.
Easy-to-use
The Legal billing solution is very user-friendly as it requires the least of inputs.
Best support
Get help from our exceptional customer support team via email or phone. We are here for you.
Data security
Protect your client's information and firm's data with industry-leading security methods and protocols.
Free Data Migration
Easily transfer all your data from your existing software to CaseFox.
Frequently Asked Questions
What is legal task & event management software?
Legal Task & event management software is software that keeps you updated regarding different events and deadlines which helps in managing your task effortlessly.
Will my clients get benefited from the use of legal task & event management software?
Legal task & event management software helps you to keep your clients connected as this software helps in sending invites to the clients about the events and further assists them in knowing about the scheduled meetings as well. urther assists them in knowing about the scheduled meetings as well.
Sign up for a free account today!
Manage all your tasks and events with our task management software