Law Firm Conflict Check
The Conflict check tool is used to avoid and prevent conflicts between existing and potential clients. You can use our conflict check tool for your law firm to prevent yourself from any malpractice that would have taken place if you wouldn't have kept a check using legal conflict check
Most likely, the Conflict Check feature is more useful for attorneys and law firms.
A Conflict check on a potential client is performed to ensure that your duties and obligations to the potential client would not cause a conflict with your other existing and previous clients. Most malpractice insurers suggest that attorneys set up a conflict checking system (not necessarily using software) in place to avoid and prevent conflicts. CaseFox helps you manage your conflicts easily. CaseFox provides functionality to enter names of people involved in your cases, on both sides.Try to enter as many names as you can find. For example, if you are representing a son, enter the name of his immediate family members. Similarly, you may enter all people somehow closely related to the opposing party. This is how it examines computerized lists of clients and cases to determine whether the moving lawyer has ever represented parties with interests adverse to those of the new firm's clients. Conflict Check is the most required feature for your law firm
After adding new clients, you can easily use the tool and check if any conflict persists by entering the name you want to check the conflict with.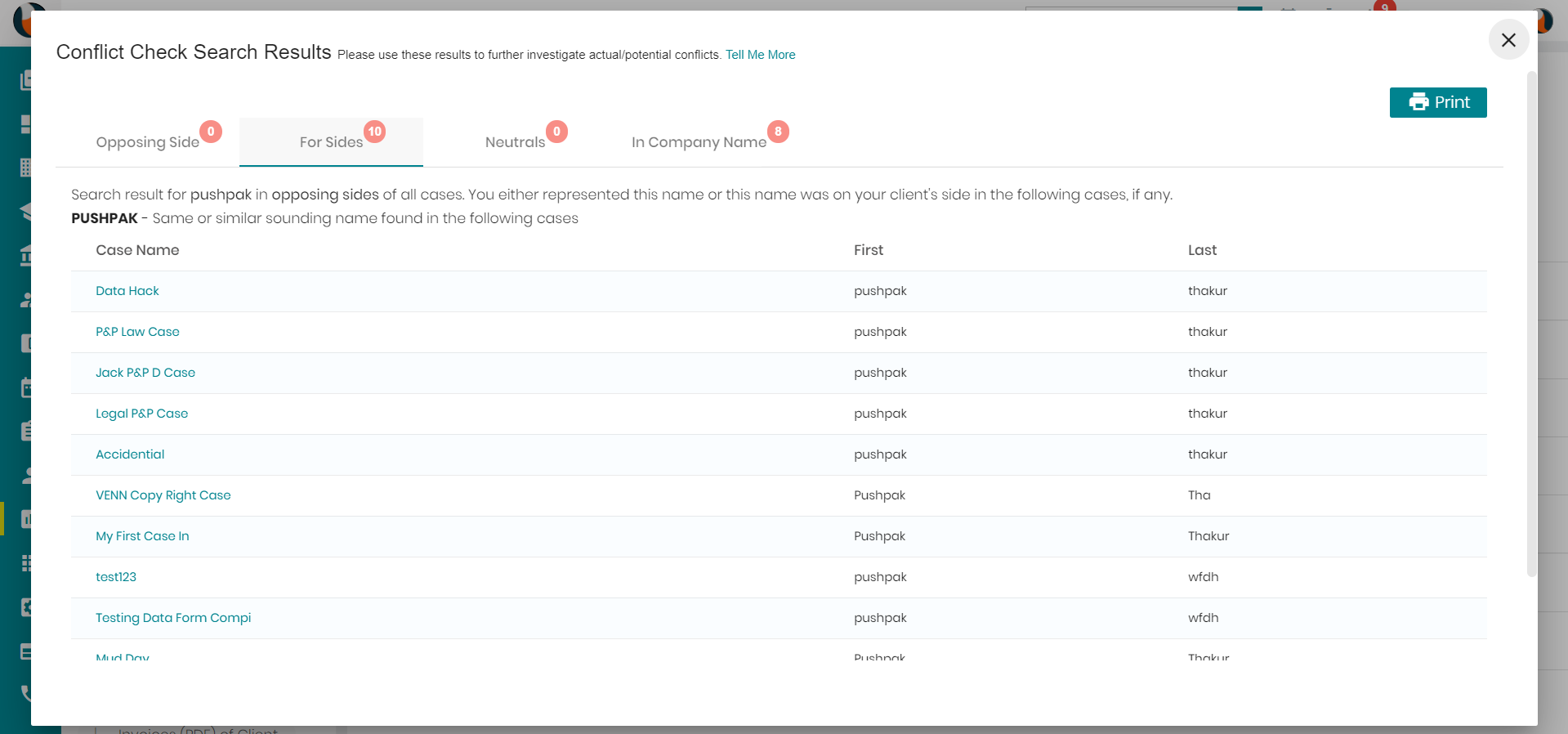 Please note that first and last names are checked separately to overcome any spelling mistakes during data entry of first or last names and conflict checks should be performed not only on a potential client but also with the opposing party of the potential client.
Names of companies or firms may also be entered in either first name or last name fields. One of these fields may be left blank on the Conflict check page
Please note that this functionality only provides one of many other steps you should be taking to avoid any conflicting situations. Also, needless to say, that CaseFox conflict check depends on names entered in the "Names" tab.
Top client services for the best client experience
With the premium features in all the plans offering top-notch client services when it comes to data migration and security, CaseFox makes your everyday practice easy.
Easy-to-use
The Legal billing solution is very user-friendly as it requires the least of inputs.
Best support
Get help from our exceptional customer support team via email or phone. We are here for you.
Data security
Protect your client's information and firm's data with industry-leading security methods and protocols.
Free Data Migration
Easily transfer all your data from your existing software to CaseFox.
Sign up for a free account today!
Have no conflict of interests with the Conflict Check feature