Stay organized on-the-go and hit deadlines on time with legal calendaring
Stay updated and eliminate the chances of missing important meetings and events with our legal calendaring software. Manage your events and tasks effortlessly.
Keep track of your firm's schedule
Get an overview of your legal firm's schedule in a single calendar memo. Add events for your coworkers and also keep a tab on their events and tasks.
Link events to cases and staff members
Update your daily tasks & events and assign them to particular cases and staff members. CaseFox's legal calendaring makes event and task management easier for your legal firm.
Easily access task and event calendar on your dashboard
Your personalized dashboard displays a separate calendar memo, tasks due today list and calendar events list. Legal Calendaring software will work as a reminder for you so that you don't miss any important events or tasks.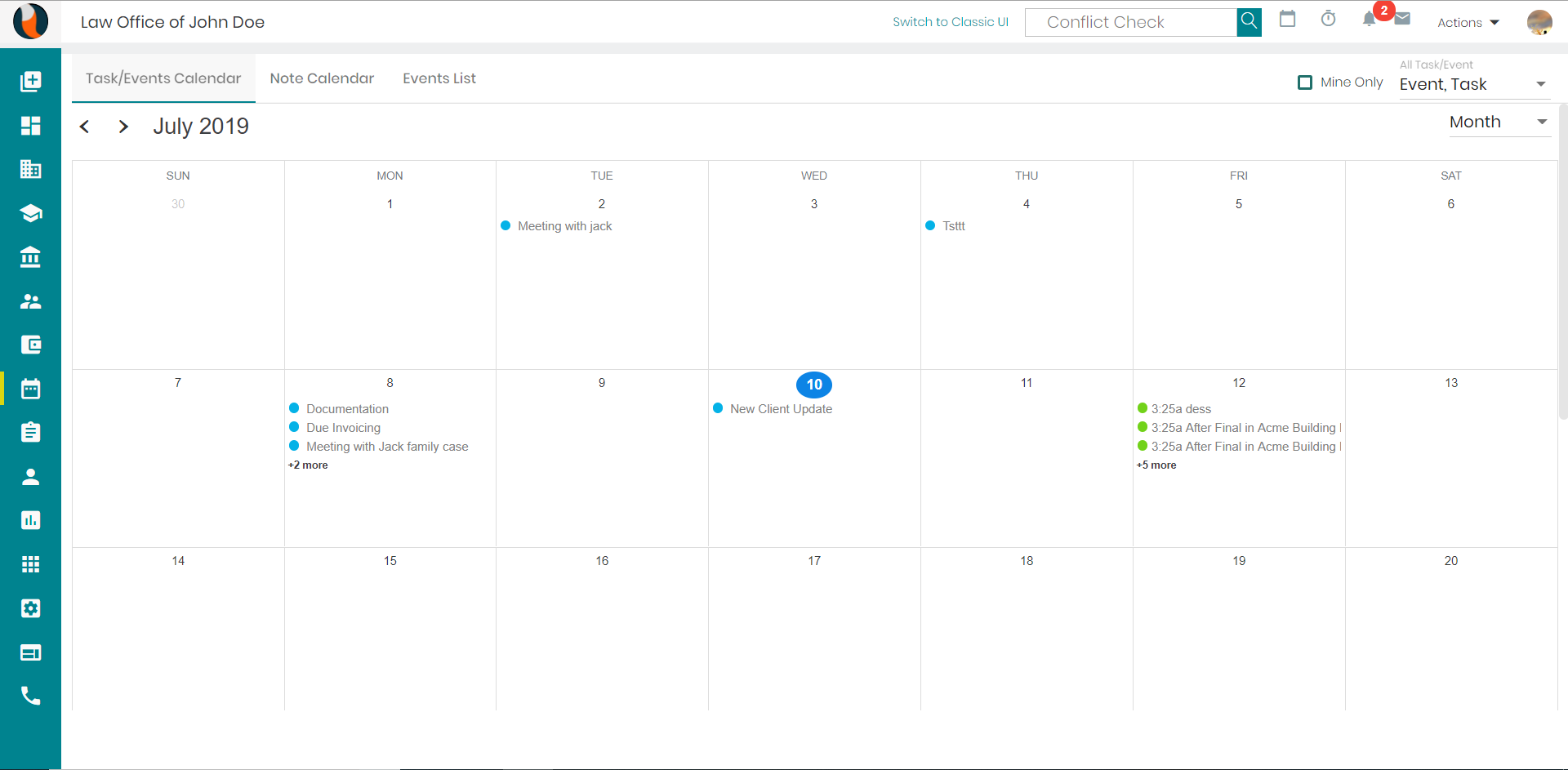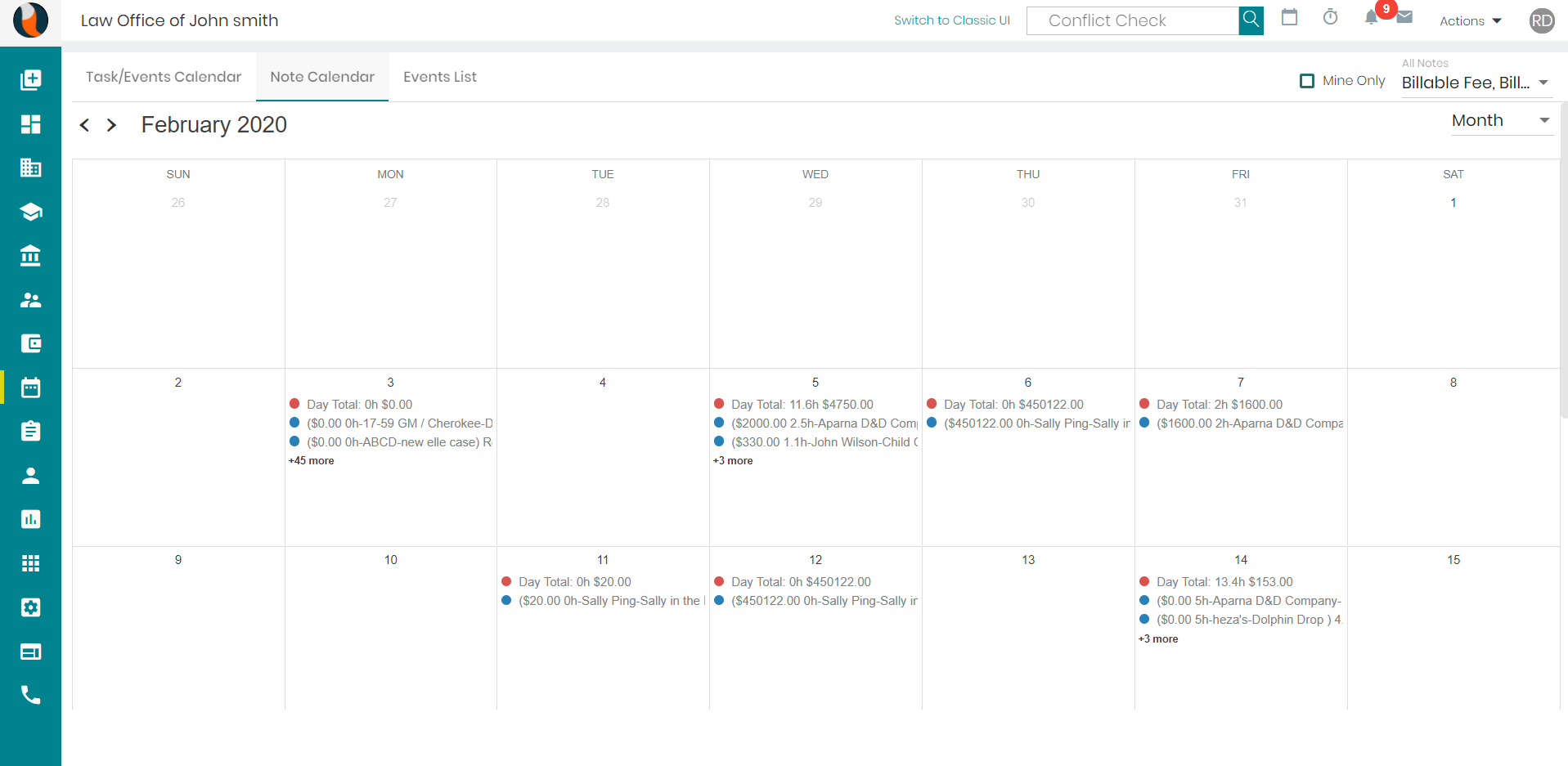 Keep your clients updated
Inviting clients to the tasks and events will make it easier for your clients to stay updated and feel connected. CaseFox serves as the most suitable calendaring software for law firms as it ensures timely working by acting as a reminder for your clients.
Track day wise time entries using the note calendar
Note calendar displays the time entries created each day. It enables you to keep track of billable and non-billable fees and expenses on a single note calendar memo. Legal Calendaring Software allows you to directly create a time entry by clicking on the date.
Add recurring tasks to save time in repetitive entries
You can add recurring tasks with our automated legal calendaring software. Adding such recurring tasks will save the time you spend on repetitive entries. Add the recurring type of the task and the end date.
Frequently Asked Questions
Can I create billable hours using CaseFox's legal calendaring software?
Casefox provides clear time and expense tracking for both billable and non-billable hours. It helps in generating monthly and yearly invoices and payment receipts for every running case or matter in less than a minute.
I only want to use one calendar. Can Casefox's legal calendaring software do that?
Casefox helps in syncing to tools like office 365, google calendar, etc. Which helps you in managing one calendar at a time.
Can I see which clients haven't paid their bills?
Yes, you can set specific events as private while still allowing others to see your schedule.
Top client services for the best client experience
With the premium features in all the plans offering top-notch client services when it comes to data migration and security, CaseFox makes your everyday practice easy.
Easy-to-use
The Legal billing solution is very user-friendly as it requires the least of inputs.
Best support
Get help from our exceptional customer support team via email or phone. We are here for you.
Data security
Protect your client's information and firm's data with industry-leading security methods and protocols.
Free Data Migration
Easily transfer all your data from your existing software to CaseFox.
Sign up for a free account today!
Miss no appointments with our legal calendaring software