Calendar events are easily accessible and added through the dashboard in our event calendar software
CaseFox's integrated case focused event calendar lets the first admin of the account view and add events for all the staff members of the law firm. Each user can separately login to the CaseFox account using their own login credentials and can then view and add their events individually through their personalized dashboard. Calendaring entries and tasks created in CaseFox are seamlessly and transparently synchronized (two-way) with Google accounts.
The event calendar view also shows your colleagues' calendars to advance teamwork.
Easy one-click invoicing and generation of payment receipt
Record payments against invoices & apply interest rates to the delayed payments in a single click. Mark invoices as fully paid, write off invoices, and generate payment receipts in pdf formats easily.
Create customized professional invoices
Create professional, easy-to-read legal invoices for your law firm using our customized invoicing templates and invoice management tools. Change invoice numbers and email templates as per your needs.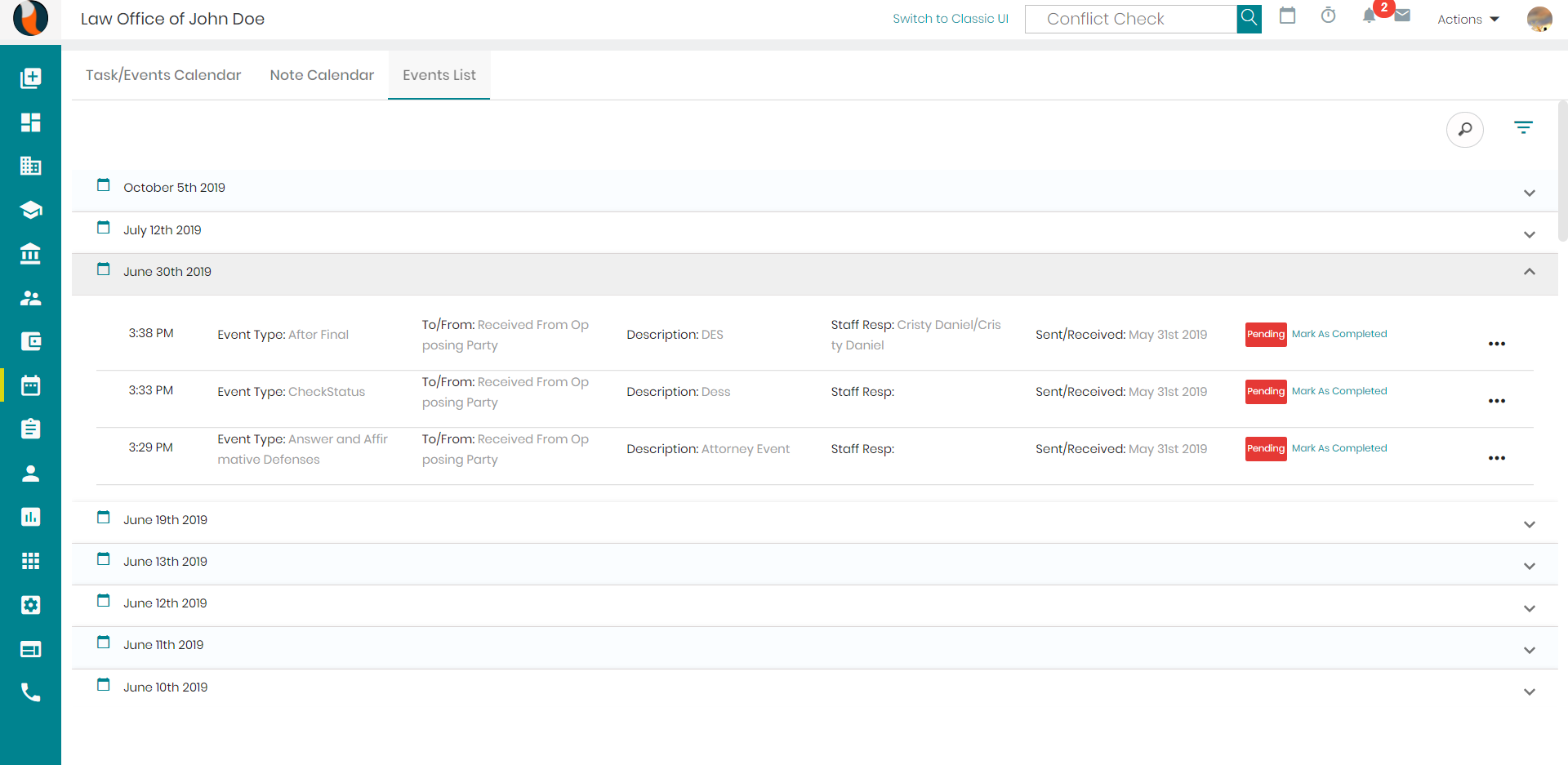 Features that you need
Take your firm's management on-the-go with CaseFox.
All of your clients, case, staff, invoices, payment information, and billing histories are accessible at your fingertips.
Case & Client Management
Access client & case dashboard, total billable time and amount, legal invoices, documents, etc., all in one place.
App Integrations
CaseFox connects the apps you use every day on a single software so that you can manage your law firm with the best app integration.
Ledger And Accounting
The Income and expense ledger displays your legal firm's incomes and expenses for the year. Integration with Quickbooks and Xero Accounting will make accounting easier for you.
Staff Management
Timekeepers of the firm will access CaseFox according to their given roles. You can assign them cases and track their performances.
Tasks And Events
Keep all your tasks and calendar events in one place.Track today's task, late task, upcoming task, and all events trouble-free.
Billing & Payments
Easy one-click invoicing based on previously recorded time entries/notes. Save time using automatic billing, bulk invoice generator, and get paid faster.
Top client services for the best client experience
With the premium features in all the plans offering top-notch client services when it comes to data migration and security, CaseFox makes your everyday practice easy.
Easy-to-use
The Legal billing solution is very user-friendly as it requires the least of inputs.
Best support
Get help from our exceptional customer support team via email or phone. We are here for you.
Data security
Protect your client's information and firm's data with industry-leading security methods and protocols.
Free Data Migration
Easily transfer all your data from your existing software to CaseFox.
Sign up for a free account today!
Miss no important event with Event Calendar Software