Set up global hourly rates for billing
Set differently global attorney billing rates are for your staff members, as per their seniority or experience. Such global hourly rates are the default rates used in billing for cases.
Configure different billing rates for cases and clients
In case you want to customize the billing rates, you can do so individually for both cases and clients. Such change in rates will be applicable for future entries, past entries shall remain unchanged.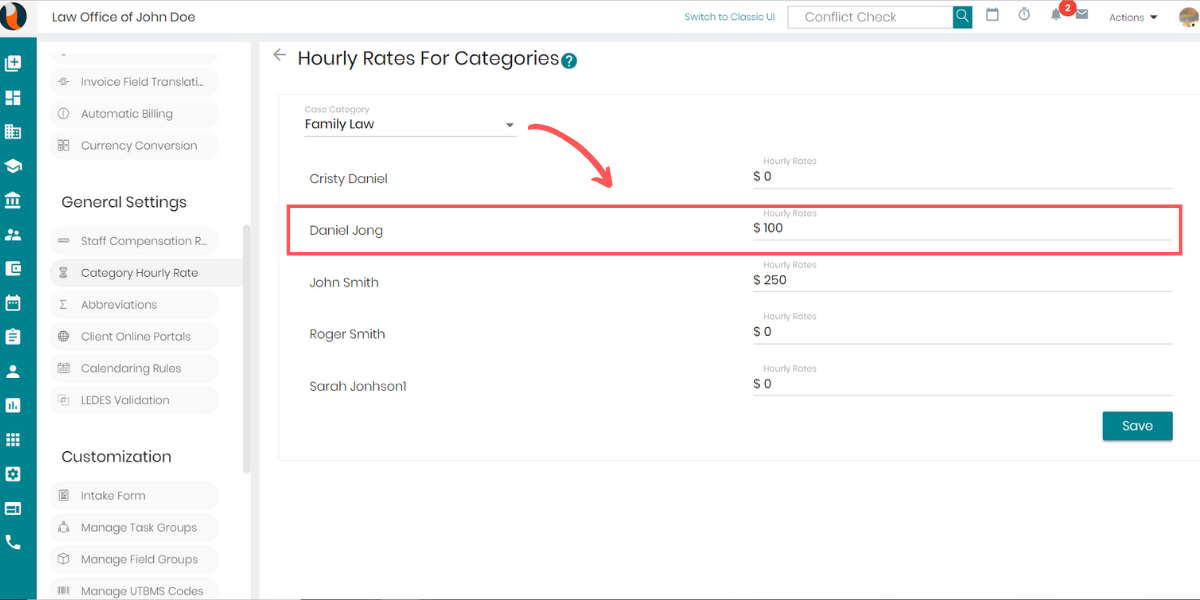 Features you need to run your legal practice smoothly.
Take your firm's management on-the-go with CaseFox.
All of your clients, cases, attorneys, invoices, payment information and billing histories are accessible at your fingertips.
Role-based access to data helps you control what information your attorney can view. You can also customize access to contract staff and office secretary.
Hourly Rates For Categories
You can set different hourly rates for each case category your law firm deals with. Within case categories, you can individually set each attorney's billing rates.
Attorney Performance Reports
Set different yearly targets for your legal firm attorneys. You can track their performances by comparing actual billable hours and amounts to the set target.
Top client services for the best client experience
With the premium features in all the plans offering top-notch client services when it comes to data migration and security, CaseFox makes your everyday practice easy.
Easy-to-use
The Legal billing solution is very user-friendly as it requires the least of inputs.
Best support
Get help from our exceptional customer support team via email or phone. We are here for you.
Data security
Protect your client's information and firm's data with industry-leading security methods and protocols.
Free Data Migration
Easily transfer all your data from your existing software to CaseFox.
Sign up for a free account today!
Our Free plan is free forever with all features. No Credit Card required