#Custom Tags
Categorize legal data & track your growth with Custom Tags
Add, manage, filter and run custom tags for all your law practice and track your progress with prompt, accurate, and efficient communication
No credit card required! Our free plan is free forever.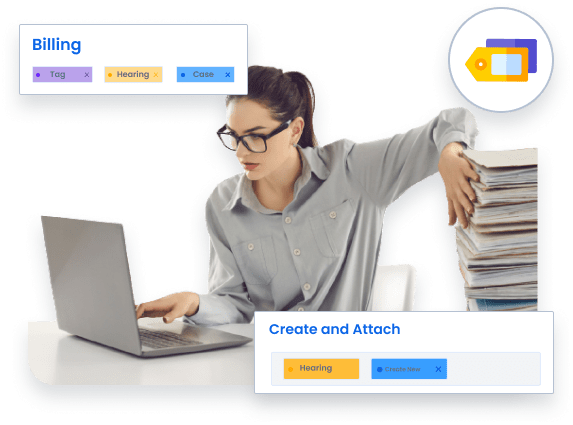 Customize your legal operations - easy & quick! We put the 'PRO' in 'Proficiency'!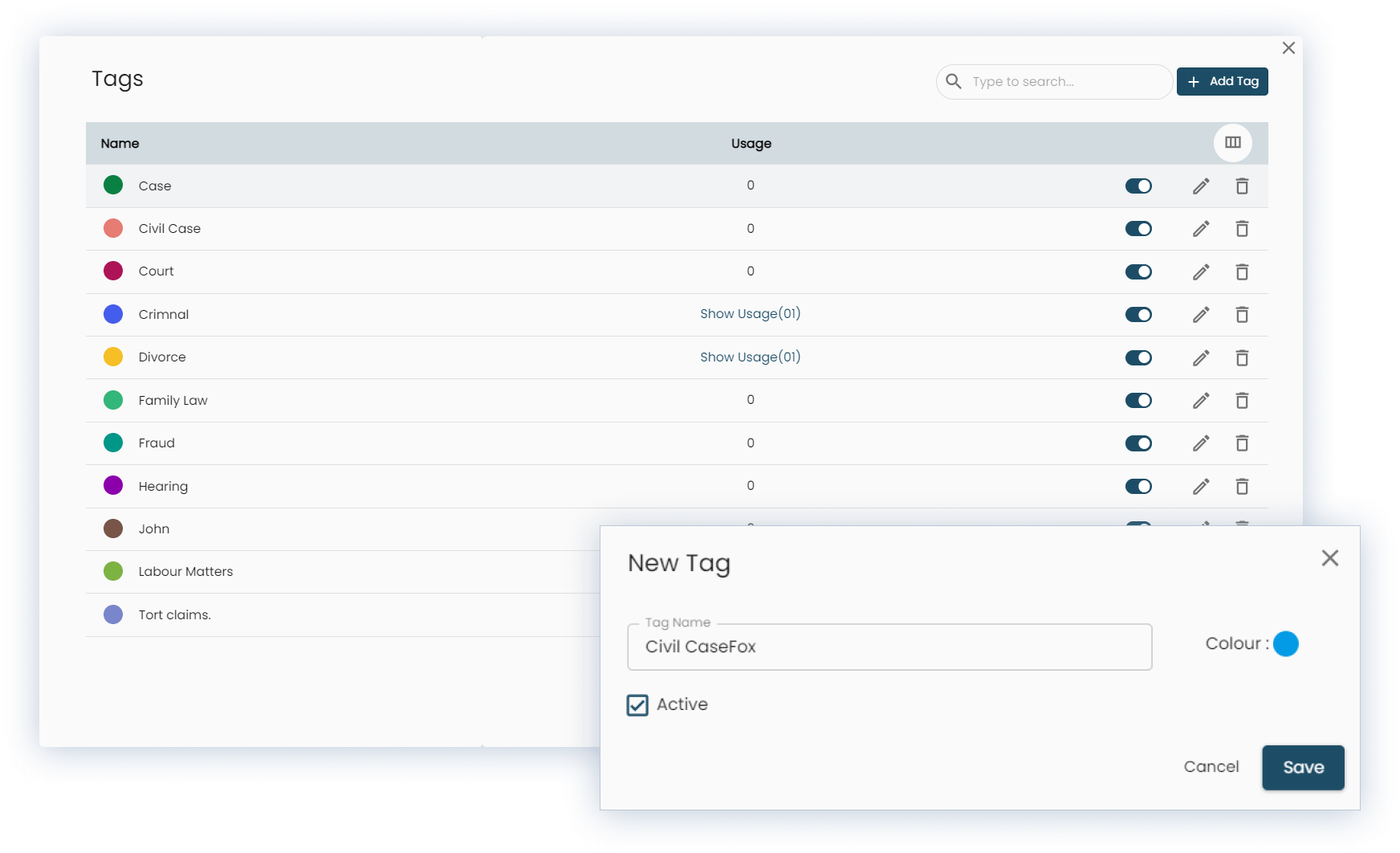 Tracking with Accuracy
Track your billable hours & generate invoices effortlessly.
Efficient Performance Evaluation
Manage cases & gain valuable insights with profit measurability.
Easy & Accessible Documentation
Categorize case data & keep your documents organized at a single dashboard.
Accessing & tracking cases- now comes easy!
Enjoy productivity boost without any misplaced files by custom tagging
Track billable hours, expenses, & tasks associated with specific cases or clients
Generate accurate invoices effortlessly
Capture all billable activities & provide billable reports.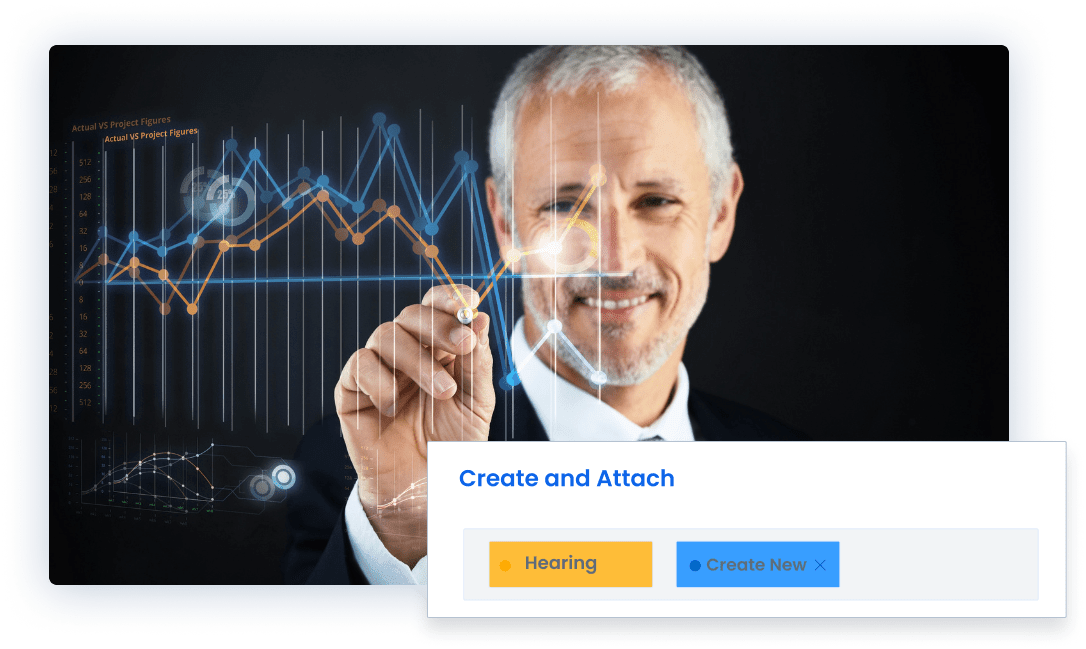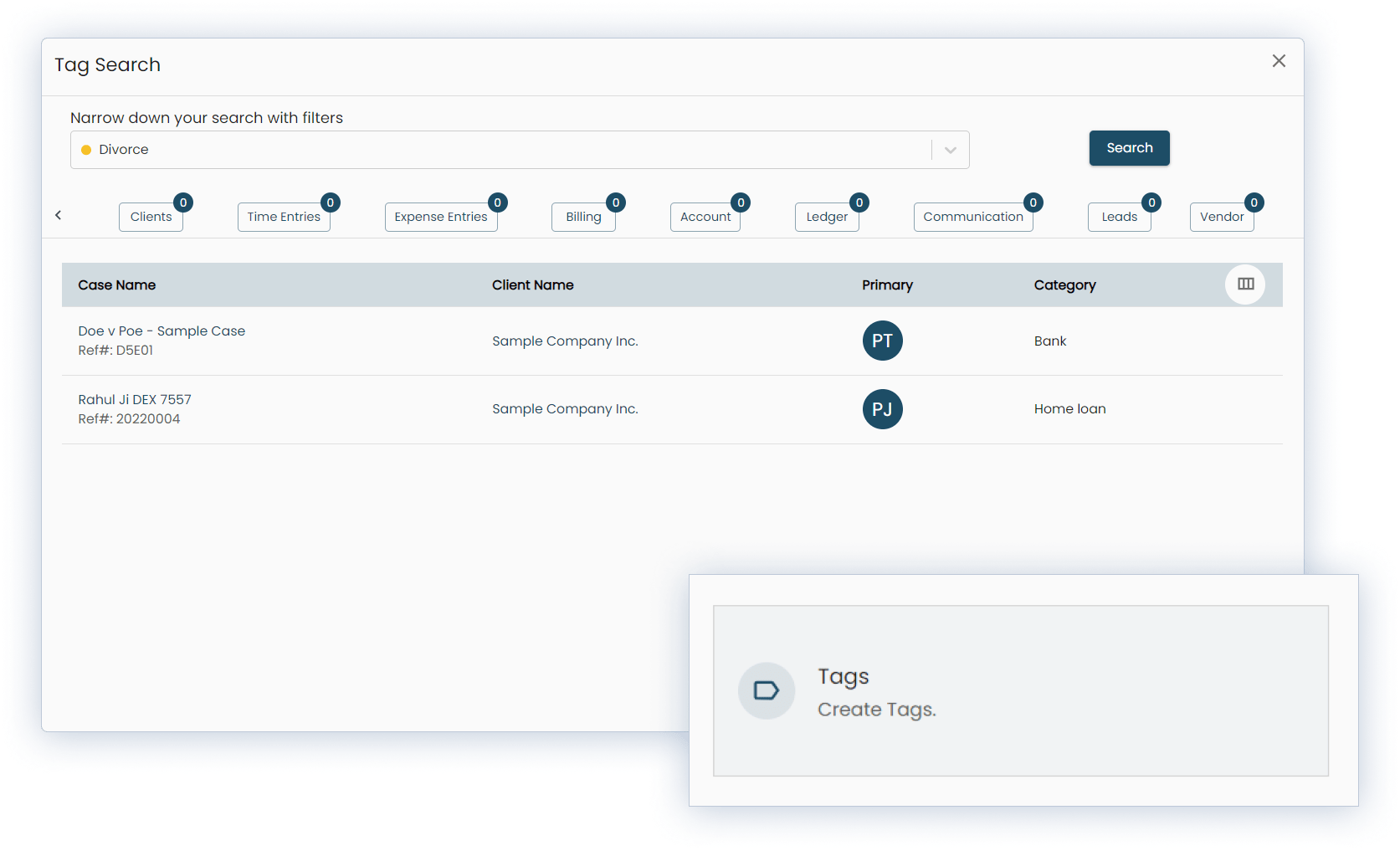 Efficient Performance Evaluation
Track your productivity & evaluate your performance by profit measuring within a single dashboard
Gain valuable insights into your practice's performance.
Identify trends, track productivity, measure profits & optimize your law practice
Easy & Accessible Documentation
Save valuable time by swiftly accessing pertinent cases, documents, and other case-related information
Categorize your cases based on practice area, case type, urgency, & other information.
Use customizable tags and labels to quickly access relevant cases, documents, & other information.
Top client services for the best client experience
With the premium features in all the plans offering top notch client services when it comes to data migration and security,CaseFox makes your everyday practice easy.
Easy-to-use
The Legal billing solution is very user friendly as it requires the least of inputs.
Best support
Get help from our exceptional customer support team via email or phone. We are here for you.
Data security
Protect your client's information and firm's data with industry-leading security methods and protocols.
Free Data Migration
Easily transfer all your data from your existing software to CaseFox.
Thousands of users, ONE VERDICT!
Thousands of customers worldwide rely on CaseFox to track, manage, and improve their law firm's operations.
Frequently Asked Questions
What is a custom tag?
A custom tag feature in CaseFox refers to a user-defined tags or labels that can be applied to various types of information within the software. Legal professionals or law firms create these tags to organize and classify data, documents, tasks, or other elements according to their legal data of specific cases and clients within our legal case management software.
What are the benefits of using custom tags?
The custom tagging feature in CaseFox empowers users to personalize the system according to their specific needs, improving organization, efficiency, and collaboration within the legal practice with customizable tags and labels. By incorporating custom tags, you can categorize your cases based on practice area, case type, urgency, or any other criteria that suit your practice. With a simple search using these custom tags, you can quickly access relevant cases, documents, and other case-related information, saving you valuable time.
How do custom tags work?
The custom tagging feature in CaseFox allows users to assign or allocate personalized labels or attributes to elements such as documents, tasks, and matters. Legal professionals like lawyers, attorneys, etc. can create and customize the tags, assign them to relevant items, and use them for categorization, search, and filtering. Custom tags improve organization, enable quick retrieval of information, and facilitate reporting and collaboration within the law practice.
How is custom tag useful in case management?
Custom tags in case management within a legal practice management software offer numerous advantages. These user-defined labels allow for efficient organization and categorization of cases based on specific criteria, such as case types, practice areas, clients, and jurisdictions. By assigning custom tags, similar cases can be grouped together, enabling easy retrieval and management. Additionally, custom tags enable users to track case progress and status, facilitating effective case management and follow-up. Priority and urgency can be identified through tags, ensuring that critical matters are given appropriate attention and resources. 
Moreover, custom tagging streamlines document management by categorizing case-related documents, enhancing accessibility, and saving time. Collaboration and communication are also improved, as custom tags can indicate responsible individuals or teams for different aspects of a case. The reporting and analytics capabilities of custom tags enable users to generate customized reports, track case outcomes, and identify trends or areas for improvement. 
Overall, customizable tags and labels in case management optimize organization, tracking, collaboration, and analysis of cases within legal management software.
When & how can I access my custom tags?
You can access the Custom Tag feature of CaseFox by simply logging into your CaseFox Dashboard. You can also visit the CaseFox help desk https://help.casefox.com/en/article/how-to-create-a-tag-1wuivum/ for more information on 'how to add a custom tag.
Adding Custom Tags is a seamless process in CaseFox. Legal professionals like lawyers, attorneys, law firms, and others, can add custom tags for their cases as well as clients to categorize, retrieve, organize, and track their legal data.
Can other members of my law firm see my custom tags?
The Custom Tagging feature of CaseFox is designed in such a way that any legal professional with the authorization of a particular law firm can see the tags added to Custom Tags on their CaseFox dashboard. 
However, a particular Custom Tag can only be edited by the individual who created that particular tag. This ensures that all the Custom Tags added by that particular individual are safe and there is no redundancy of the tags.
Is the custom tag feature chargeable on my current subscription?
The custom tag feature of CaseFox is included in the current subscription of $35 USD for every user. You can avail this feature by simply logging into your CaseFox account dashboard. This feature allows legal professionals to create custom tags for efficient categorization, organization, and retrieval of your case data, without redundancy.
Is the custom tag feature available in the free version as well?
Absolutely! The Custom Tag feature of CaseFox is available to all free users as well. Legal professionals who are using CaseFox for free can keep using the customizable tags and labels feature without incurring any extra charges. 
What parts of the CaseFox dashboard has custom tag feature?
The Custom Tag feature available in CaseFox Dashboard can be used in the following:
Client

Case

Time Entry

Expense Entry

Task

Event
All these features are visible on the CaseFox Dashboard for the legal professionals to avail and streamline legal practice.
How can I use custom tags in CaseFox?
Using customized tags feature in CaseFox is an effortless process. Any Legal professional can simply access this feature by logging into their CaseFox dashboard. Here are the simple steps that you can follow to avail the Custom Tagging feature:
Login -> Dashboard -> Settings -> Manage -> Tags -> Add Tags

Login to CaseFox.

Go to the dashboard, to the left corner you will find the sidebar.

Select settings from the sidebar and go to manage.

Under manage, you will find tags.

Go to tags, you will be prompted by a new window.

To create a new tag, click on the icon situated towards the top right "add tag"

Fill in the details and click on save.
You can also visit the CaseFox help desk
Is cloud-based case management software secure?
Yes, CaseFox is the best cloud-based case management software that is fully secure for your law firm. All your documents, files, the billing process, and information are fully secured with the CaseFox attorney case management software suite. You can hassle-free manage all your cases without any stress of security. Billing software provides an exceptional filling of legal document management for all your cases.