I. Introduction
Law firms of every size are experiencing the advantages of cloud migration as the legal sector continues to move toward digitization. With the help of cloud technology, law businesses, and firms can regulate their information and workflows.
Their increased usage of cloud technology, allows them to enjoy the following:
Improved security
Increased efficiency
Financial savings, etc.
Now, owing to the various Law Firm Cloud Storage providers out there, it can be challenging for legal institutions to choose the one that best suits their unique requirements.
This is why we will be analyzing some of the best cloud storage platforms for law firms and explaining why choosing such providers is necessary.
Why Cloud Providers Are Essential for Law Firms
Law firms need cloud-based storage providers for a number of reasons, namely:
They offer a trustworthy and safe system for hosting, accessing, and exchanging private legal records, which means sensitive data is often protected from unauthorized access or breaches
The capacity and adaptability offered by cloud service providers allow law firms to swiftly extend their business operations in response to changing client demands
Their pay-as-you-go pricing methods let law firms only pay for assets they really utilize, which helps them cut down on overhead expenses
They supply multiple data centers, as well as recovery and restoration options, to assure the availability of vital data and applications
Importance of choosing the right solution
The importance of choosing cloud-enabled legal practice management software has been outlined in the image below: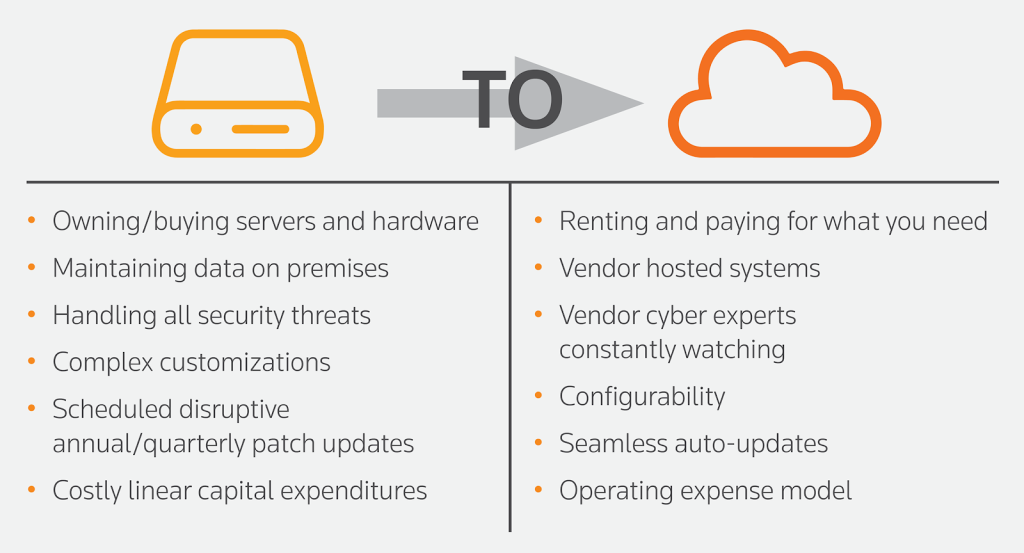 II. Key Considerations for Choosing a Cloud Provider for Law Firms
Some of the things to consider when choosing one of the best cloud storage platforms for law firms are:
Data Security
Security is a significant concern for legal firms due to the sensitive customer information and secret legal papers they handle.
This is why selecting a cloud storage provider with cloud cybersecurity can help them prevent unauthorized access to critical data.
Compliance
Since law firms are governed by a number of laws, they should opt for a cloud service provider that adheres to these rules, to prevent compliance-centric issues.
Legal Technology
Law firms utilize a range of legal technology. This is why choosing a cloud storage provider that can interface with such applications will assist them in enhancing and monitoring their infrastructure performance and streamlining their daily operations.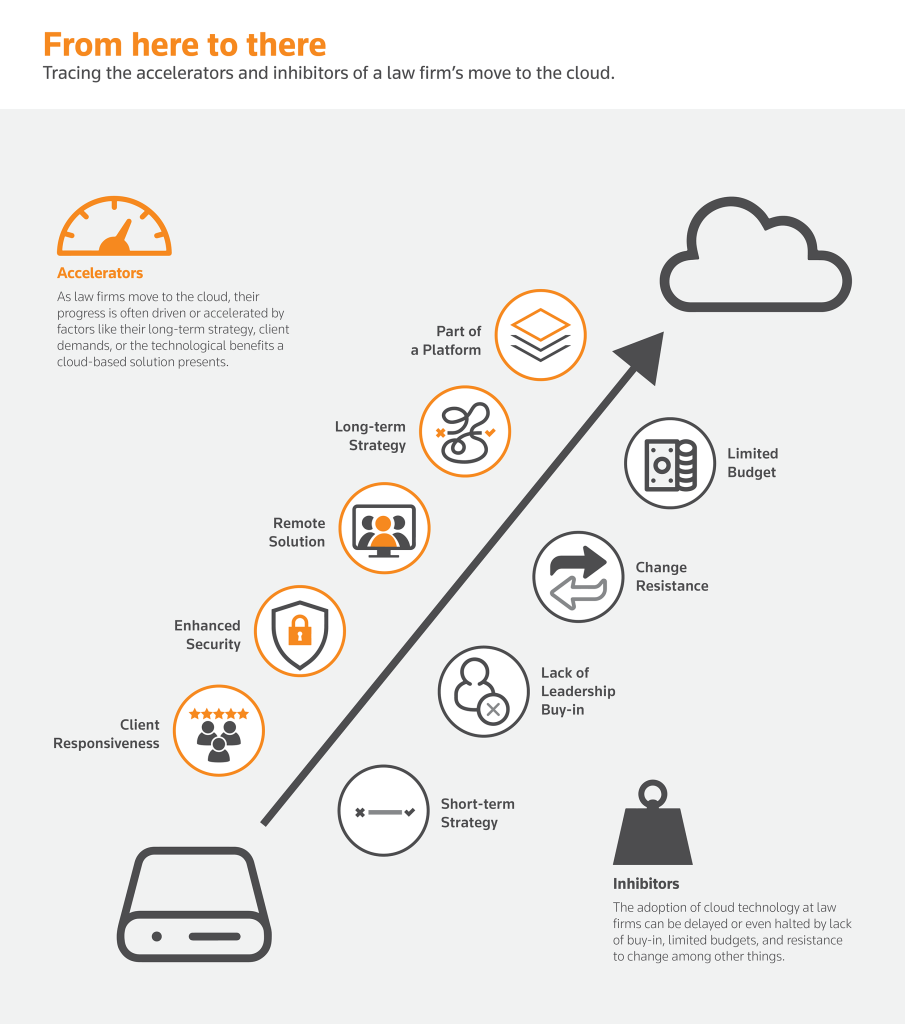 III. Comparison Of Top Cloud Providers for Law Firms
Law businesses might take into account prominent Private Cloud Technology Providers for Law Firms, such as:
IBM
Microsoft Azure
Amazon Web Services
Google Cloud, etc.
Some of the parameters on the basis of which the above applications can be compared have been mentioned below:
Security
Strong security features, such as the following, are provided by all four service providers:
Data encryption
Access limits
Threat detection
Amongst all the applications, the most comprehensive security ratings and compliance specifications are maintained by AWS and Microsoft Azure.
Compliance
The most thorough regulatory badges were obtained by AWS and Microsoft Azure.
Adaptability
Amazon Web Service and Microsoft Azure are regarded as the most adaptable and scalable applications owing to their extensive array of assets and amenities that can meet the varying business requirements of law firms.
Software Integration
There are numerous software programs that all four cloud service providers are integrated with.
The most robust partner ecosystems and integration opportunities, however, are found in AWS and Microsoft Azure.
IV. Pros and Cons Of Each Cloud Provider
A. AWS
Pros:
1. Security and User Friendly
AWS is simple to use since it is built specifically for speed and security. Users have the freedom to change their data anytime and anywhere they want.
2. Scalability
Legal businesses with variable workloads might choose Amazon Web service as a flexible alternative since it provides scalable cloud solutions that enable law firms to increase or decrease machine capacity in accordance with their business demands.
Cons:
1. Complexity
For legal firms with minimal IT resources or expertise, exploring AWS's large range of capabilities and services can be challenging.
2. Cost
AWS is a bit pricey, particularly for legal businesses that require significant computing and storage capacity. AWS also levies additional fees for various services, such as data transmission and support, which rapidly mount up.
B. Microsoft Azure
Pros:
1. Security
Microsoft Azure is a secure alternative for keeping confidential legal data since it has a strong security infrastructure with several safeguards, encrypted data, and network privacy measures.
2. Flexibility
Azure provides customizable cloud solutions, making it a flexible choice for legal services companies with fluctuating workloads.
Cons:
1. Cost
Azure's price structure is high.
C.Google Cloud
Pros:
1. Security
Google Cloud is a secure alternative for keeping confidential legal data since it has a strong security architecture with several privacy safeguards
2. Scalability
Legal companies with different workloads can use Google Cloud as a flexible alternative since it provides flexible cloud solutions
Cons:
1. Limited Support
Google Cloud Provider has fewer support choices than Amazon Web Service and Microsoft Azure. For instance, there is no call support, which is a serious issue for legal businesses that need assistance right away.
V. Factors To Consider Before Making a Decision
Some of the factors which law firms must consider before choosing a cloud-enabled legal practice management software are:
Type of the Firm
The nature of the legal firm or organization in question determines the cloud provider they choose.
Requirements of Legal Firms
Several businesses have distinct needs according to their:
Scope
Sector
Kind of organization
Budget
Choosing an affordable cloud service provider is always a must.
VI. Conclusion
In conclusion, choosing the best cloud-based storage provider for a legal company is a significant decision that may have a big influence on how successful a firm is.
You must consider your choice based on the parameters that best suit your unique demands.
You can take into the elements we've covered above, namely:
Safety
Legality
Scalability
Affordability
The key is to thoroughly assess each provider's options and make sure that they are in line with the goals and spending limit of your company.
===============================================================
Author's Bio – Srushti Shah is an ambitious, passionate, and out-of-the-box thinking woman having vast exposure in Digital Marketing. Her key focus is to serve her clients with the latest innovation in her field leading to fast and effective results. Working beyond expectations and delivering the best possible results in her professional motto. Other than work, she loves traveling, exploring new things, and spending quality time with family. Reach out to Srushti Shah on Twitter or LinkedIn