If you are a lawyer, you know how important it is to master the art of engagement letter writing. Engagement letter is a crucial document that enables lawyers and clients to establish their relationship for a legal representation. It is a foundation of lawyer-client relationship and saves the interest of both the parties.
In this blog, we will explore more about what an engagement letter is. Not just that, we will provide you a guide in the form of must-have key elements of an engagement letter. If you are new to the legal profession or writing. Or want to learn how to create an effective engagement letter. This blog can be helpful to you. So continue reading to excel your engagement letter writing skills.
What Is An Engagement Letter?
Engagement letter is a formal agreement between legal professionals and their clients. The focus of this letter is to outline the terms and conditions of lawyer-client relationships. The engagement letters to clients serve as a contract. That outlines the scope of legal services provided, fee structure, responsibilities of lawyers, clients, firms and other essential details. The lawyer and client create and sign the engagement letter before the beginning of their relationship. This letter is helpful in establishing the boundaries of legal representation. Not just that, it also sets expectations for clients in advance. Engagement letter is an official legal binding document even if it is less formal than a traditional contract. The detailed engagement letter is a valuable document that consists of information regarding lawyer and client relationship.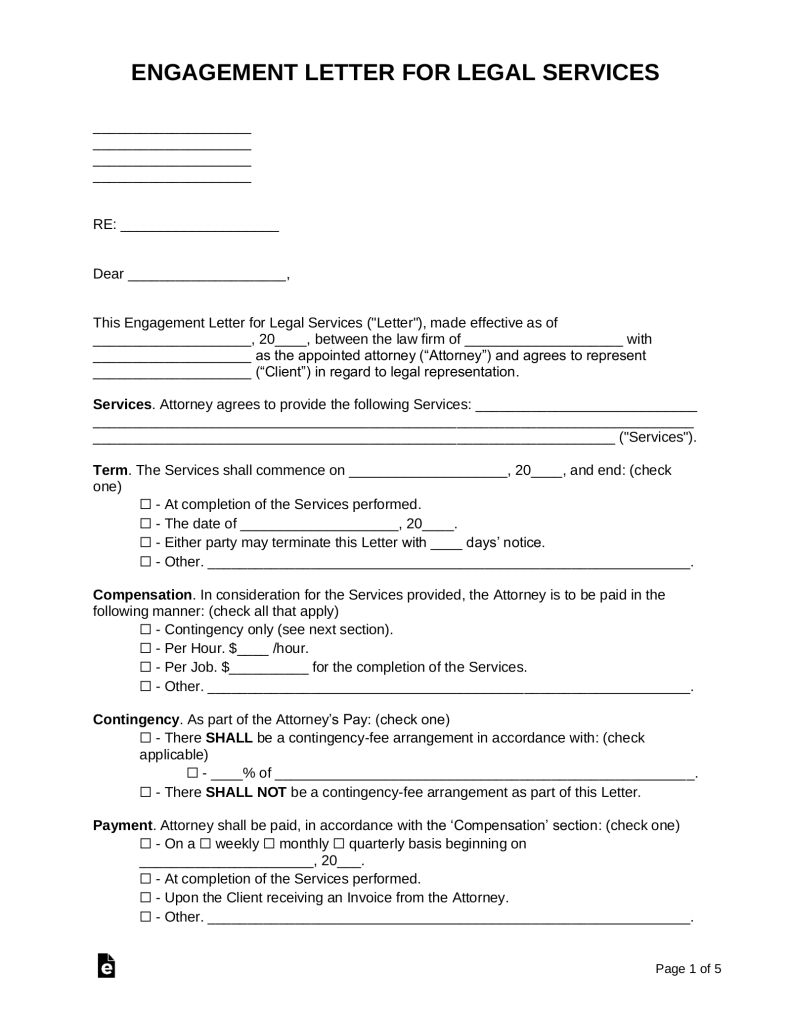 Key Elements To Include While Writing An Engagement Letter
If you are writing an engagement letter to your client, ensure you are adding all the necessary details to it. Here are some of the key elements that you must include while writing an engagement letter to your client:
1. Introduction
Engagement letters for lawyers should start with the introduction. This introduction will identify the lawyer, law firm and client. This introduction section may include information like the name of the client, address, contact information and other necessary details. The introduction part of the engagement letter sets its tone.
2. Scope Of Services
In this section of engagement, letters for attorneys outline the scope of service in detail. Additional mention the practise area, limitations in scope of service (if any). By having clarity in the scope of work, you can avoid any potential misunderstanding. It will also help a client in understating what they can expect and what not. A clear scope of service helps in avoiding future conflicts that can impact attorney-client relationships. 
3. Fee Arrangements
The client engagement letter should also consist of all the necessary information regarding fees. This section will include information like the method of payment, for instance, flat fees or hourly charges. Mode of payment, online payment, cash and cheque etc.Expenses that client may have to bear. Time period during which the client will get bills, etc. All these things should be clear, so that no misunderstanding arises later.
4. Communication Details
Law firm client communications are important to stay in touch with clients. It is the duty of a lawyer or attorney to keep the client updated about their legal representation. This can happen with the help of clear and open client communication. Mention all the details in this section, such as how often you will connect and communicate with your client. What will be the mode of communication, and how clients can reach them if they want to communicate or share information, etc. 
5. Responsibilities and Expectations
Both clients and lawyers have some responsibilities and expectations from each other. This section of the engagement letter defines the responsibilities of both the parties. This can include clients' responsibility to provide accurate information, make payments on time and cooperation during the legal representation.
6. Terms And Conditions
Terms and conditions are an essential part of any legal contract. While creating an engagement letter, make sure to have a dedicated section for all the terms and conditions. Include details of any conditions that may arise during the period of engagement and how to handle them. Make sure to not skip this particular part of the engagement letter.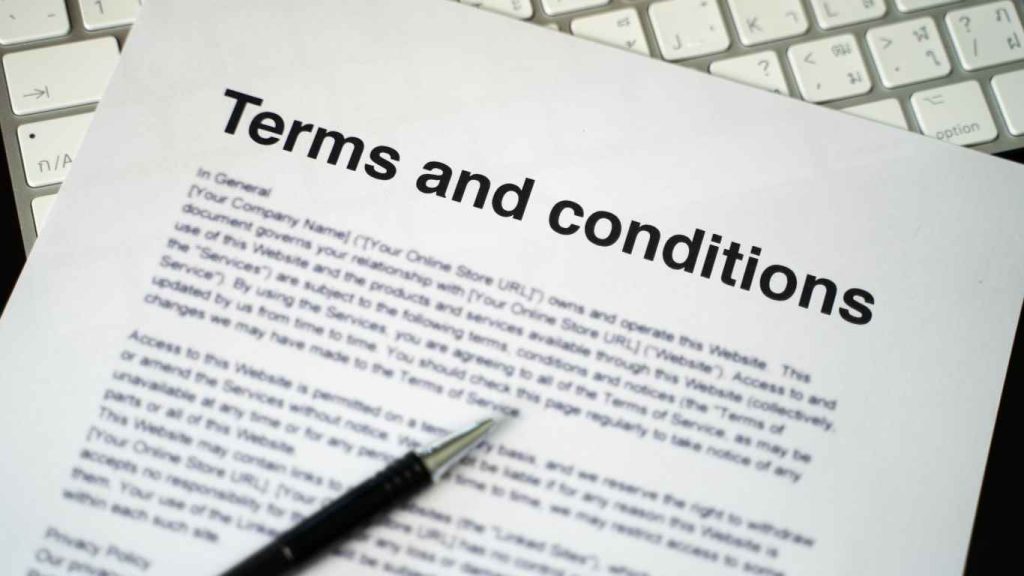 7. Conflict Disclosure
Conflict check is the crucial part of any legal representation. Make sure to ask your client to identify and explain any potential conflict that may arise. You can run conflict checks to safeguard the interest of your client. You can follow ABA's Model Rules for this purpose. By running a conflict check, you will be able to identify any potential conflicts and discuss it with your client.
8. Termination and Withdrawal
Termination and withdrawal is the essential part of an engagement letter. The termination and withdrawal section explains the condition and procedure that lawyers and clients must follow while terminating engagement letters. This section will contain all the information, such as the circumstances in which lawyers and clients can terminate engagement. Not just that there will be information regarding the notice period while terminating and impact on the fees of lawyers. With termination, this section will also contain information regarding the lawyers' write to withdrawal of their representation. Additionally, it will also provide information in which lawyers can withdraw representation.
9. Disputes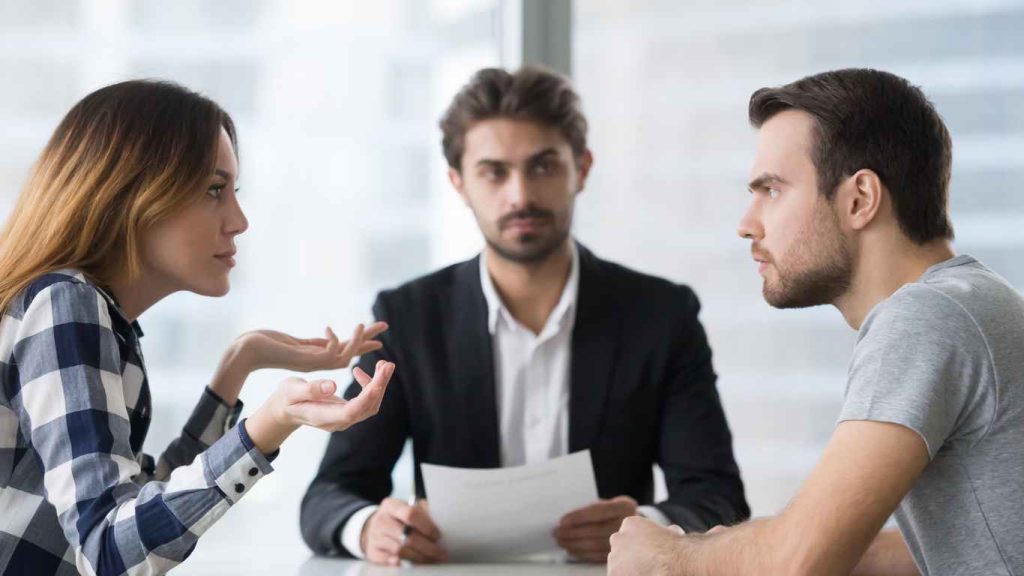 In the legal profession, the chances of disputes arising are high. Many times, clients and lawyers can face disputes. So it is necessary to provide the details of the procedure that will take place. Just in case any dispute arises between the parties. For example, if the client is not happy with the bill chargers and there is a dispute. So resolving that dispute, there should be a procedure in engagement letters for lawyers.
10. Signature and date lines
The signature and correct date are essential for the engagement letter to be valid. Both the lawyer and client should thoroughly review the letter and sign it. Add the date of beginning and the end date of the engagement letter. Signature on the engagement letter will ensure that both the parties agree with it.
Common Mistakes To Avoid While Creating An Engagement Letter
If you are a legal professional creating an engagement letter, here are a few common mistakes that you should avoid.
1. Vague Language
It is really important to use clear and concise language in your engagement letter. Make sure to avoid the use of vague language. The use of vague language can lead to misunderstandings and disputes with clients.
2. Unclear Fee Structure
If you are creating an engagement letter, make sure it has a clear fee structure. Improper information about the fees can lead to disputes with clients. Not just that, it will also impact your reputation in the industry. Be very transparent with clients about your billing method and offer them estimated fees. So that it becomes easier for them to decide whether they can afford your legal service or not.
3. Non-Compliance with Ethical Rules
It is necessary to ensure that your engagement letter compliance with all the ethical rules. Non-compliance with ethical rules can lead to serious consequences for both lawyers and their clients.
So when you are creating any engagement letter, make sure you are not missing this important factor. Compliance with ethical rules will safeguard the integrity of legal representation. 
The Bottom Line

Engagement letter writing is an essential skill that all lawyers must have. Lawyers who can write engagement letters clearly in detail usually have fewer chances of letter termination. A well-written engagement letter ensures mutual understanding and builds client trust. By adding all the elements that we have mentioned in the blog to your engagement letter. You can create an effective and comprehensive letter. So if you are looking to build a strong attorney-client relationship, draft an engagement letter. These letters go a long way and protect the interest of both lawyers and clients. There are numerous engagement letter examples available online that you can leverage to create one for your clients.
An engagement letter is a formal agreement between lawyer and client that helps in establishing a lawyer-client relationship. This letter outlines the scope of legal service, clients' expectations, fees structure and responsibilities of lawyer and client.
Yes, it is really important to have engagement letters in written form. This ensures clarity and helps in preventing any future misunderstanding. The letter in written form is a record that you can use in case of conflict. 
Yes, engagement letters are legally binding. By signing the engagement letter, both lawyer and client agree with the terms and conditions of the engagement letter.