Intro
Law firm letterheads play a pivotal role in the operations of legal firms. The importance of a thoughtfully crafted legal letterhead cannot be overstated. A well-created letterhead holds the power to make a substantial impact. Not only does it assist in establishing a robust brand identity, but it also effectively communicates credibility and sets the appropriate tone for all correspondence.
Hiring a professional to create a lawyer letterhead can be costly. However, there are a variety of resources available online that can assist law firms in designing legal letterheads for free. Designing your own law firm letterheads can save resources and provide you with the opportunity to offer a custom letterhead. In this blog, we will explore what a legal letterhead or law firm letterhead is. We will also guide you through a step-by-step process of creating a letterhead.
Understanding Law Firm Letterhead & Its Importance
A law firm letterhead holds significant importance for law firms. A well-designed legal letterhead helps in enhancing the brand identity and build credibility in the industry. A legal or lawyer letterhead includes information such as firm name, logo, contact information, address, name of attorneys, etc. Not just that, sometimes the law firm letterhead may also include the titles of the attorney and partners of the law firm.
All this information and elements contribute to creating a professional look for all the legal documents of the firm.
Law firm letterheads are important because of various reasons and some of them are mentioned below:
Law firm letterheads help in establishing a strong and professional image of the firm.
A legal firm letterhead consists of all the crucial information that enables clear communication between the firm and recipients.
A well-designed and structured law firm can help in building a strong professional brand image.
A well-formatted and professional law firm letterhead ensures compliance with legal regulations.
Steps To Design Legal Letterhead For Law Firm
Law firm letterheads are a crucial part of any legal firm. The best letterhead design for a law firm consists of all the important information regarding the firm. Below, we are sharing some steps that you should follow to create and design your own law firm letterheads.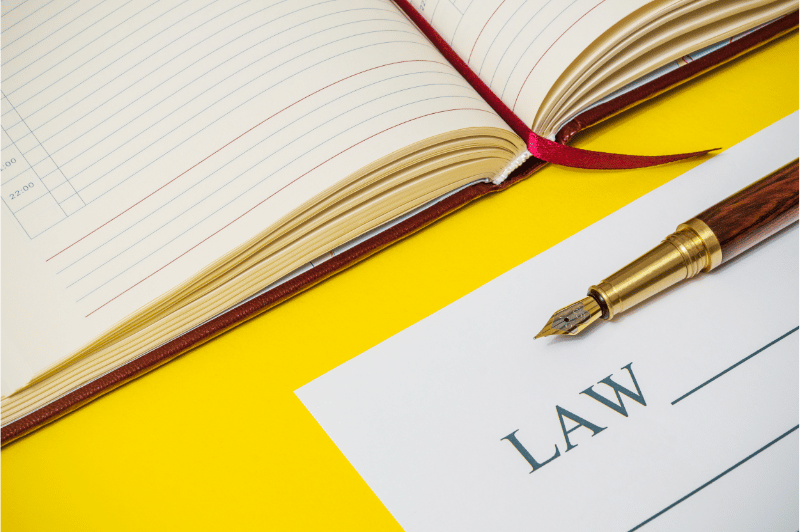 1. Define Your Brand Identity
For creating a letterhead for a law firm, the first step is to understand the brand value, ethics, and identity. The best law firm letterhead design always reflects the brand identity. In this step, it is crucial to consider the mission of the firm, desired images, and target audience of the firm. All this will help firms in legal letterheads that align with the firm's overall value and brand identity. It is necessary to have a clear understanding of brand images for lawyer letterhead.
2. Determine the Layout and Structure
The next step is to design the letterhead format. Determine how your letterhead will look. What will be the layout and structure of your letterhead? Usually, in the structure of the letterhead, the name and logo of the firm appear at the top. The firm follows this by providing contact information and other important details. Consider whether the design and layout of law firm letterheads will be simple or elaborate. Also, decide the placement and organization of other elements on the letterhead.
3. Utilize Online Tools and Templates
The next step is to utilize the online tools and templates. There are numerous law firm letterhead templates online. Take inspiration and create one for yourself. When designing your lawyer letterhead, make use of different law firm letterhead examples available online. The online templates and other such resources typically have pre-designed layouts and elements that are customizable. Pre-designed templates can be time-saving and it can offer a professional look to the letterhead.
4. Select Fonts and Typography
After you have decided on your layout and template. The next step is to focus on the fonts and typography of law firm letterheads. Make sure to choose appropriate fonts and typography. Your fonts should convey professionalism and credibility.
Consider using easy-to-read fonts so that everyone understands what you are trying to convey. Fonts like Times New Roman or Arial are easy to read and commonly used. Ensure that the legal letterheads have consistency in font choices.
5. Review and Finalize
Lastly, review your law firm letterheads and finalize the design. Make sure to review the initial design and make necessary changes and updates if required. Consider that all the necessary elements are included in the design. Your legal letterheads should reflect the firm's identity. Once you have achieved satisfaction with the design, layout, and font, finalize your lawyer letterhead.
Top 3 Free Tools To Use For Designing The Law Firm Letterhead
Designing a law firm letterhead is not a difficult task. There are various online tools available that can help in creating a professional letterhead design. Below, we are mentioning the top three tools for creating a legal letterhead:
1. Canva
Canva is a very popular platform to design images. It is a versatile tool that helps not just in creating creative letterhead designs but also allows you to browse through template libraries. For creating letterhead online, Canva is one of the best options available. It is simple and easy to use. You can simply log in to Canva and, in the search bar, enter "Law Firm Letterhead".
You will get numerous templates for letterhead to choose from. Choose the template according to your preference and customize it according to your brand image. There are various fonts, stickers, and other editing elements available. You can simply choose a theme, customize it and download it. The best part of using Canva is that it has both free and paid elements.
2. MS Word
MS Word is a powerful tool that various firms and businesses use. MS words allow firms to create letterhead online for free. You can create a complex and simple letterhead design with the help of MS Word.
When creating a letterhead with MS Word, it is important to keep in mind that it is not a tool specifically designed for letterhead creation. You will have to start from scratch on MS Word. It can be time taking to create a crisp and professional-looking law firm letterhead with MS Word. However, if your law firm is using MS Word for creating other documents of the firm, it will be worth it to make a legal letterhead with MS Word.
3. Adobe Creative Cloud Express
Adobe offers a full suite of products to help professionals create different types of graphic content. The platform offers various pre-made templates, and it is easy to use at the same time. You can make your custom letterhead with the help of Adobe. You simply have to log in and start for free with Adobe. Next, you can search for law firm letterhead templates. You can later customize it according to your brand. It is easy to align the personalized letterhead with your brand image. Adobe has various features that will help you in creating a top-notch law firm letterhead.
The Bottom Line
In conclusion, law firm letterheads play a crucial role in law firm branding and communication for a law firm. It is advantageous to refer to online sources for the best letterhead design ideas when creating your own legal letterhead. A well-designed and structured letterhead has the potential to make a lasting impression on clients and contribute to a professional and credible image of your firm. In this blog, we have provided steps for designing a law firm letterhead and highlighted tools such as Canva, MS Word, and Adobe that can be utilized for this purpose.