Law firms are not just the collection of various legal professionals under one roof. It is a more complex organization with multiple lawyers of job roles. Law firms are intricate and have a well-designed hierarchy. If you are planning to work in any law firm, it is important to have a proper understanding of hierarchy. Whether you are pursuing a career in law or you are just curious to learn about the law firm structure. This comprehensive guide is what you need. Let's dive into law firm organization structure and see what's in there for you.
The Law Firm Hierarchy Structure
There is a hierarchy in law firms that defines the roles and responsibilities of all the members. Typically, most of the law firm hierarchy is the same.
1. Law Firm Partners
The pinnacle of the law firm hierarchy is the partners of the firm. Law firm partners play a significant role in law firm management and business. Attorneys who are seasoned not only possess extensive legal knowledge. But also play a major role in a firm's business or capital. Law firm partners are usually the founding members of the firm. Law firms can have multiple partners that own, run, or manage the firm. These partners may have equal or some share in the equity and decision-making process of the firm. Their share in the firm also decides their control of the firm's operations.
Some of the responsibilities that these law firm partners may have include:
Finding new clients or businesses for the firm. Maintaining strong relationships with existing clients.
Delegating tasks and responsibilities to other legal professionals working in the firm.
Take part in the key decisions of the firm and vote for the same
Use different management strategies to manage day-to-day operations or long-term management of the firm.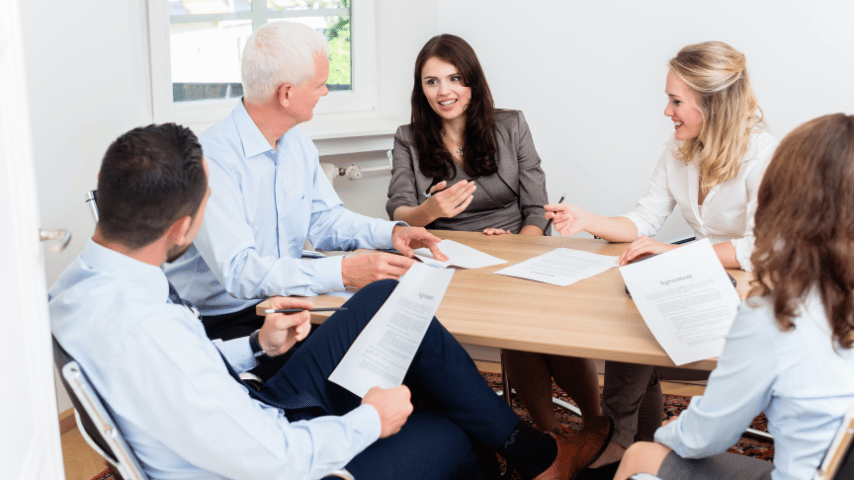 2. Associates
Next in law firm titles are associates. These are lawyers or attorneys who have the potential to become the partners of the firm someday. Associates are aspiring legal minds who have recently joined the firm and have strong potential. To hone their legal skills, associates usually work closely with law firm partners and senior associates of the firm. Usually, legal associates have the capability to take responsibility for various legal tasks. The responsibilities of a legal associate may vary depending on the size of the firm and the area of specialization.
Here are some of the common responsibilities of legal associates:
Composing legal reports for lawyers
Summarizing emails for lawyers and attorneys
Collecting all the crucial case information from the client
Offering legal advice to clients
Collaborating with other members of the firm or individuals from outside of the firm to evaluate any case.
3. Of Counsel
Of Counsel sits somewhere between partners and associates. They aren't typically the employees of the firm. They work on a contract basis with the firm and bring a wealth of experience and expertise with them. Lawyers and attorneys who serve in the position of the Of Counsel are usually highly experienced and have a reputation in the industry. Some of these lawyers or attorneys may include retired legal professionals, firm partners, legal consultants, or specialized legal professionals with specific knowledge.
Here are some of the responsibilities of the Of Counsel:
Providing in-depth legal knowledge on certain legal topics.
Tackle complex and challenging legal cases and issues.
Train and mentor junior lawyers and attorneys and offer them a fresh perspective.
Contribute to the process of client acquisition.
4. Senior Associates
Senior associates are lawyers who haven't reached the partner status of the firm, but they are on that path. These senior associates usually have experience of more than five years. Senior associates, AKA the managing associates of the firm. These associates not only take up legal responsibilities but also take an active part in the leadership of the firm. Senior associates take up various responsibilities in law firms that help them become the vital element of the firm.
In the law firm hierarchy, senior associates tackle the following responsibilities:
Managing a team of junior associates, paralegals, and other legal professionals.
Assisting and delegating responsibilities to juniors and other members of the team.
Evaluating and re-writing crucial legal documents.
Taking a client's case and representing them in the courtroom.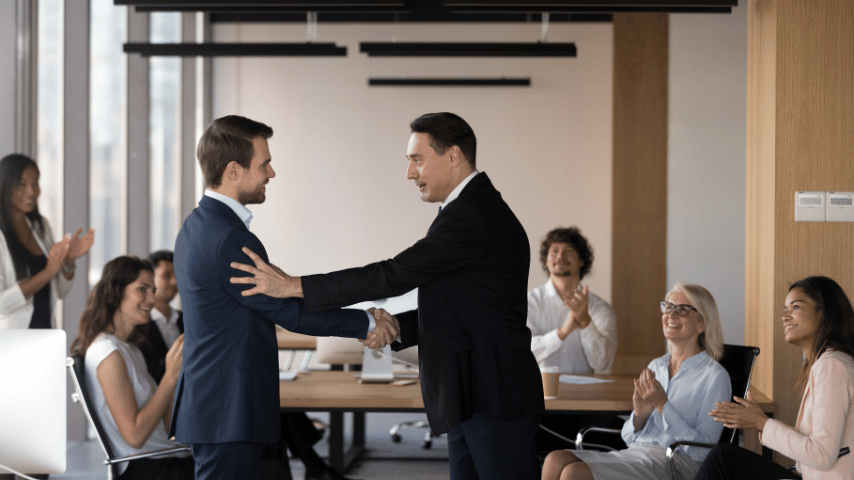 5. Junior Associates
Junior associates are college students or freshers in the legal industry who are just embarking on their legal journey. These associates work and operate under the guidance of senior associates, lawyers, and partners. To gain knowledge and experience in the legal profession. They usually take part in legal activities that are related to helping lawyers with their casework. Most of the firms train junior associates for at least two years before they decide to hire them full-time. Usually, junior associates are in the phase of intense learning when they join the law firm.
Here are some of the responsibilities of junior associates:
Writing and recording minutes for shareholders.
Taking part in negotiations of non-disclosure agreements.
Conducting due diligence tasks such as preparing legal documents for lawyers.
Performing legal research for lawyers.
Preparing and proofreading legal documents.
6. Paralegals & Legal Support Staff
Beneath the various lawyers of the law firm hierarchy are paralegals and legal staff. These legal professionals take part in both administrative duties and legal responsibilities. The main objective of paralegals is to provide support to the lawyers with different aspects of legal service.
Paralegals usually handle tasks, such as document preparation, scheduling, etc. These tasks help lawyers to work efficiently. The qualifications of paralegals help them support lawyers with their casework.
Some of the common responsibilities of paralegals and legal support staff include:
Organizing and managing case files.
Drafting legal documents and contacts to help lawyers and attorneys
Managing client communication by coordinating over a phone call or email.
Handling confidential information related to certain clients or cases.
Parting Thoughts
Law firms have a strong ecosystem of different roles and responsibilities. Each title of the law firm hierarchy plays a vital role in providing a quality legal service. The law firm hierarchy ensures that everyone in the firm knows about their roles and responsibilities. By the end of this blog, you must have an understanding of law firm hierarchy. If you are joining a legal firm, it is important to understand the hierarchy.
Frequently Asked Questions
Associates are usually law students or freshers in the law firm. They work under the guidance of senior lawyers, attorneys, and law firm partners. They help seniors in performing tasks such as drafting and proofreading legal documents and communicating with clients. Conducting legal research and taking an active part in other such law firm activities is also part of their job.
If associates want to become the partner of the law firm. First, they have to become a senior associate and then gradually move toward the position of becoming a firm partner. They will have to gain experience in the legal field and improve their skills to become a partner. Bring new clients for the firm and contribute towards the business of the firm to be a partner.
While the law firm hierarchy is usually the same in most of the law firms. However, it is not necessary for all law firms to follow the same hierarchy structure. There can be some variations according to the size of the firm, role, and responsibilities.
A defined hierarchy in a law firm will give individuals an idea of their responsibilities. They will know what task they have to take up according to their title. Most of the work distribution is on the basis of expertise and experience. Most complex and serious legal tasks are taken care of by seniors. While daily and routine tasks are taken up by juniors.